Stepped vs Level Insurance Premiums
So you've decided to get life insurance, and you even have an idea of how much cover you need. But there's one other thing you need to consider: stepped vs level insurance premiums.
Not familiar with these two main premium structures? Here's a quick rundown of what you need to know.
What's the Difference Between Stepped vs Level Insurance Premiums?
Stepped premiums are a premium structure where your premiums change throughout the life of your policy. Every time your policy is renewed, your premiums are recalculated to reflect factors such as your age and health. Because older people are more likely to make a claim or face medical issues as they age, your premiums tend to become more expensive as you get older in this structure. So while stepped premiums often start off much cheaper than level premiums, they are likely to get more expensive over time.
Level premiums, meanwhile, feature premiums that remain relatively constant throughout the policy duration. The rate of your premium is calculated and based on your age, health, and circumstances at the time of your application. This rate then stays relatively constant throughout the life of your policy, with adjustments only made when the insurer changes their rates or when the level of insurance changes. Level premiums are typically more expensive at the beginning than stepped premiums, but they often result in larger savings over the life of your policy.
How Do These Affect the Cost of my Life Insurance?
Because a stepped premium structure typically features lower premiums at the beginning, it's often the cheaper option for most people who are getting life insurance for the first time. If you're looking for short-term insurance policies or don't have as much money for your insurance, then stepped premiums may be the better choice.
But for long-term investments in life insurance, the opposite is usually true. Because level premium structures tend to have consistent premium levels throughout their lifetime, they can be significantly cheaper in the long run. Stepped premiums tend to become more expensive as you get older, and the increases with each recalculation can sometimes be drastic.
In the end, you'll need to consider both the initial cost of entry and the overall cost at the end of your policy if you want an accurate evaluation of how much each option will ultimately cost you.
What are the Pros and Cons of Each?
To get a better idea of each premium structure's pros and cons, it's helpful to compare each type against a variety of factors.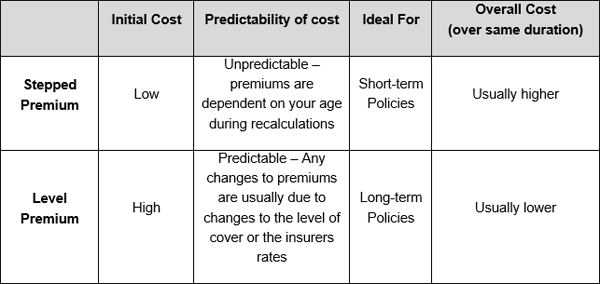 The biggest strength of stepped premiums is the low entry cost and cheaper premiums at the beginning. But their biggest weaknesses are that you'll often end up paying more as you get older, and that recalculations for premiums can also be unpredictable.
Level premiums, on the other hand, boast higher savings and lower overall costs throughout the policy's lifetime. But it is significantly more expensive at the beginning and initial stages of your policy.
Which is the Better Choice for Me?
This depends entirely on your situation and a variety of factors such as:
Age – The older you are, the more expensive your premiums will likely be. Keep this in mind when projecting each structure's cost over their lifetimes.
Current finances – Can you afford to pay the higher initial costs of level premiums? If not, then stepped premiums may be more practical.
Financial goals – How does each premium structure fit where you want to be financially later in your life? It's important that you consider your short-term and long-term goals when evaluating both options.
Length of policy – Are you getting a short-term insurance policy or long-term cover? Keep in mind that the cumulative savings that level premiums offer usually only come into effect in the middle or latter stages of a long-term policy.
Because each person's circumstances are different, deciding on the better choice between the two is something that you'll have to do yourself.
Need More Help?
Although deciding between these two premium structures is ultimately in your hands, don't forget that you can always get assistance from insurance specialists if you need it.
At Cover Australia, we can help you make a life insurance comparison and compare life insurance from different providers so that you can make the right choice. We even provide an online life insurance calculator to help you make quick estimates of insurance costs and get started.
If you have any questions about stepped vs level insurance premiums, contact us today.
Get A Quote
If you would like a quote from one of our expert advisers, please provide your dtails below.

Thank you for your submission, we will contact you shortly with some options to consider